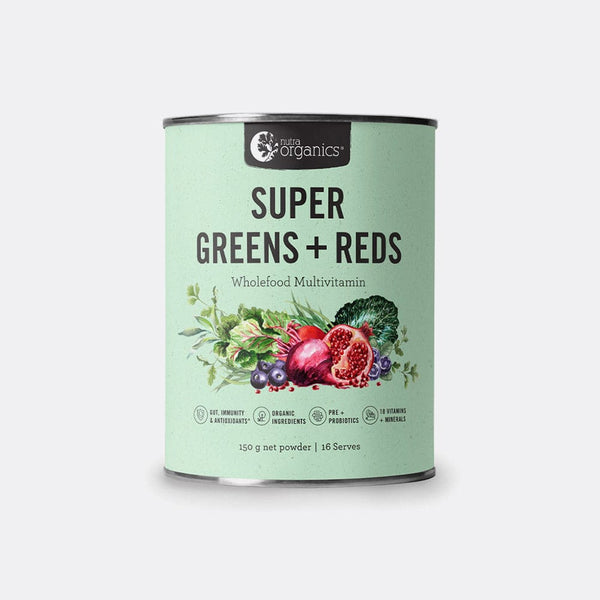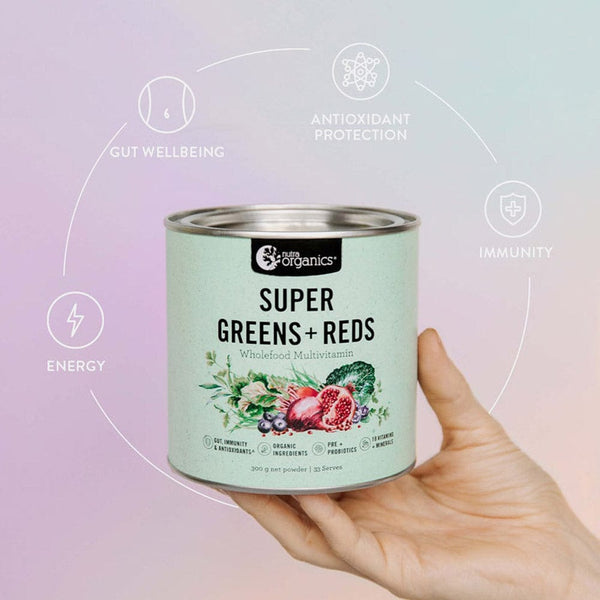 Product Description

Do you feel like your energy is waning and that your body just can't get going? Or do you want the inside scoop on what's really powering your immune system? Super Greens + Reds is a wholefood blend containing 23 nourishing greens and reds that provide antioxidants, vitamins (A,B,C,D,E,K), minerals, phytonutrients and much more to give your body all the essentials it needs to thrive. A daily serving of Super Greens + Reds helps to fill in nutritional gaps left by processed foods or low levels of physical activity.
While creating this elixir no synthetic ingredients were used, only the best healthy vegetables and fruits. It will not only help you feel better, it will give you more energy and helps in keeping you healthy.
Super Greens + Reds helps to support your healthy lifestyle by boosting your:
Immunity
Gut wellbeing
Energy
Antioxidant protection
Alkalising minerals
Cognitive function
Family friendly
Vegan & gluten free
Ingredients

Super Greens (27 %) [Spirulina*, Australian Alfalfa*, Australian Kale*, Chlorella*, Australian Broccoli*, Australian Spinach*, Tasmanian Kelp*, E3AFA Aquabotanical Algae (Aphanizomenon flos-aquae*)], Super Reds (20 %) [Blueberry, Açai*, Raspberry, Strawberry*, Pomegranate, Blackberry*, Beetroot*, Goji*, Acerola Extract*, Sea Buckthorn, Queen Garnet Plum, Tomato*], Sprouted & Fermented Golden Pea Protein*, Synbiotic Blend [Prebiotics: Inulin*, Apple Pectin, Green Banana Starch*, Probiotic: GanedenBC30® (Bacillus coagulans GBI-30, 6068)], Aquamin Marine Minerals (Arctic Sea Algae* & Salt), Sunflower Extract, Pineapple, Lemon, Flaxseed*, Chia Seed Meal*, Apple*, Maca Blend (Yellow*, Red*, Black*), Natural Plant Based Flavours, Restorative & Cleansing Botanicals (St. Mary's Thistle*, Horsetail*, Gotu Kola*, Licorice Root*, Marshmallow Root*, Lemon Balm*, Dandelion Leaf*, Ginger Root*, Ashwagandha*, Aloe Vera Leaf*, Panax Ginseng*), Wholefood Vitamin & Mineral Extracts (Broccoli*, Spinach*, Kale*, Pumpkin*, Sweet Potato*, Sunflower Seeds*, Cranberry*, Chlorella*, Maitake Mushroom*, Shiitake Mushroom*), Camu Camu*, Digestive Enzymes (Protease, Amylase, Lipase, Cellulase, Lactase), Adaptogenic Mushrooms (Maitake*, Shiitake*), Mesquite*, Natural Sweetener (Thaumatin), Blue Majik Spirulina Extract*. *Certified Organic Ingredients
Allergen Warning

Manufactured in a facility that also processes products containing milk, gluten, egg, soy, sesame, lupin, fish, crustacean, mollusc and tree nuts.
How to Use

Add 3 teaspoons (9 g) to:
Water, juice, or smoothies

Foods, such as bliss balls, chia puddings and clean treat