Our Story
Liberate your skin with slow beauty
It begins on Corbin Road
A quiet road on the outskirts of Hawke's Bay surrounded by rolling hills, busy birdlife and free-ranging animals, Corbin Road was an idyllic place to grow up. Back then, life was simple.
Fast forward 30 years or so and I was living the life many of us do; hectic work schedules, frantic days and social lives of moderate excess. I made it through, but my skin didn't. I had joined the aging rat-race. My adult years were spent trying every skincare product that promised me the complexion of a cover model. And I don't do things by halves. The result was irritated, inflamed and stressed skin that needed to recover and rebuild.
Corbin Rd. was born from the idea that we can do more with much less. I now know skincare routines don't need to be complicated. I want us to approach beauty like the slow fashion movement; buy what you need, choose quality and create less waste. We've created a simplified skincare approach using clean beauty ingredients that are kind to your skin and kind to the planet. Our range is designed to achieve healthy, strong and radiant skin, no matter what your age.
Wendy Nowell-Usticke
"Minimal should be the norm, not the exception."
I've done my time with fast beauty. The beauty industry bombards us with a single product for every ailment, and a treatment for every age and stage.
I embraced it with enthusiasm until my skin said "NO MORE!" It took a while, but my skin is in better condition now with this simpler approach. Just three products based on clean beauty ingredients designed to strengthen skin and maintain a healthy, resilient microbiome.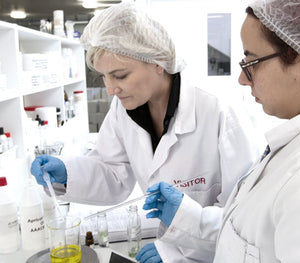 What is slow beauty?
It means being mindful about the choices we make for our skin, our lifestyle and the planet.
Use less
Simplify your routine, declutter your cabinet and save money on multitudes of products by choosing multifunctional ones instead
Choose quality
Selecting effective, clean beauty options with ingredients that work with visible results
Create less waste
Choose simplified packaging; packaging that can be repurposed or refilled, or that will biodegrade.

100% Botanical

Recyclable Packaging

Sustainable

Made in New Zealand

Delivers Results

No Animal Testing