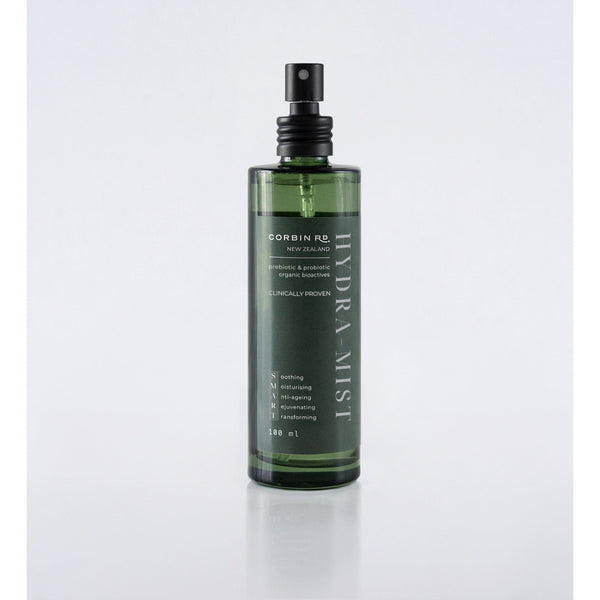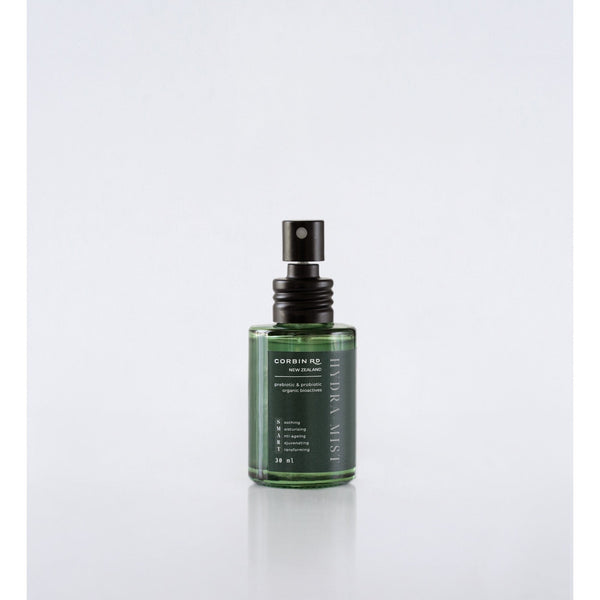 Product Details

SOOTHING - MOISTURIZING - ANTI-AGING - REJUVENATING - TRANSFORMING
Corbin Rd's SMART  5 in 1 Hydra-Mist  is literally smart.
S – Soothing
M – Moisturizing
A – Anti-aging
R – Rejuvenating
T – Transforming

A complete hydration, repair  & skin solution in a mist
Why did we create a mist? Initially for my husband. He shaves his head, and a mist with all the good stuff in it was the easiest, fastest, and most effective way for him to moisturise. While testing we also discovered,
1. Teenagers would use a spray over a cream, especially good for acneic teenagers.
2. It left a lovely dewy finish over makeup when we were using it for winter hydration top-ups. 
3. It is a great alternative to the SMART cream morning/night when it's a hot or humid summer, you still get all the actives but without the weight of a cream. 
Our SMART Hydra-Mist contains New Zealand's own scientifically proven, skin-fortifying, organic bio-actives and delivery system, alongside the best the world has to offer in biome repairing and anti-aging hydration. This is nature personified in a mist.
The slow beauty approach of simplifying your skin routine without compromising on results reflects the 5 in 1 aspect of the formula.  The science behind both fast and slow beauty is consistent, the difference, we've included it all into an easy-to-use light mist, not 5 individual ones. All our actives have their own individual science-backed proven results,  Sun damage & pigment prevention = Gotu Kola, Vit C = Kakudu Plum,  Deep hydration = Ceramides, Skin rebalance = pre+probiotics and our big hitter the bioactive from New Zealand that targets all aspects of your skin's health, pigmentation, plumping, structure calming, soothing brightening and lifting to ensuring comprehensive restoration. 
*Please note we haven't included the Vit A retinol Bakuchoil into this formula, to keep it a versatile option for teenagers with acne.
Environmental aggressors, stress, and exposure to harsh chemicals and allergens from food and personal care products can significantly disturb the skin's biome and lead to redness, irritation, and infection. Chronic exposure to those triggers can induce inflammatory processes that accelerate the normal aging process and may leave the skin biome disturbed, resulting in skin redness, irritation, and infection. In addition, overexposure to UV radiation overstimulates melanogenesis in exposed and unprotected skin resulting in hyperpigmentation.
We have carefully selected and combined clinically backed and globally renowned botanical skin brightening, skin calming, and skin soothing compounds that effectively boost the skin with immediate and long-lasting hydration and act as an incredible moisture retainer that promotes skin vitality and glow.
The clinically proven botanical blend of New Zealand native Red Seaweed, Black Fern – Mamaku, Kawakawa, Manuka Honey, and New Zealand grown Gotu Kola and Liquorice Root, work in synergy with Kakadu, Frankincense, Ceramides, and Pre & Probiotics to create Corbin Rd's ultimate, unrivalled SMART skin formula to soothe, repair, brighten and help prevent the symptoms of skin as we age.
All New Zealand ingredients are harvested using traditional Te Kanga Maori practices to ensure respect for the habitat and sustainability.
New Zealand sourced bio-actives
Land and sea botanicals have developed marvelous biomimetic biopolymers as a defensive and adaptive mechanism to survive and thrive in their unique New Zealand environment where the thin ozone layer offers little protection against aggressive UV rays.
New Zealand native Red Seaweed: Proven brightening properties, anti-inflammatory

New Zealand grown Gotu Kola: Brightening skin by reducing pigmentation

New Zealand native Black Fern – Mamaku: Rapid hydration and immediate lifting and tightening of the skin, outstanding antioxidant and antipollution properties

New Zealand grown Liquorice Root: Skin brightening and depigmentation

New Zealand native Kawakawa Tree: Medicinal plant  featuring calming, detoxifying, anti-inflammatory and anti-microbial benefits

New Zealand native Manuka Honey: Calming and soothing inflamed skin, anti-inflammatory and anti-bacterial properties
Benefits

Plumps and deeply hydrates

Reduces the appearance of fine lines and wrinkles

Stimulates collagen and elastin

Promotes skin vitality and glow

Minimizes pore size

Calms and soothes dry, scaly, irritated skin

Freshens and brightens

Reduces itchiness

Diminishes redness, blemishes, and hyperpigmentation

Minimizes formation of dark spots and sun damage

Improves skin barrier function

Combats uneven skin tones and imperfections

Minimizes acne and excema
Ideal For

All skins including:
All genders from 13 years and up

All stages of skin

Dry and flaky skin

Sensitive skin

Irritated red and itchy skin

Uneven skin tones with hyperpigmentation

Oily and acne-prone skin

Menopausal skin

Teenage acne skin

Men that don't like to put their fingers in a pot of cream. 

Anyone that has a smooth tops
eczema prone skin
How to use?

Use on a clean skin mornings and evenings.

A single spritz at arm's length should be enough for your face, massage in or just leave, and apply make-up or sunscreen after.

Spritz extra for the top of the head

Use during the day if your skin is super dry.
Set makeup, (especially powdered mineral) for a dewy look

The formula is designed to be concentrated and light, perfect for summer or very humid areas, where you can get all the nutrients your skin needs without the additional stickiness of a cream or lotion.

It can be used,  around the delicate eye area.

Use under your sunscreen and makeup.

Our formula has no sun-sensitizing ingredients, which means it is ok to use during the day.

Acne recommendation set: Cleanser, Viteve™ silk exfoliator, Kawakawa Hydrosol, SMART Hydra-Mist
Full Ingredients

Aqua, Prunus Amygdalus Dulcis Oil, Algae Extract, Caprylic/Capric Triglyceride, Glyceryl Stearate SE, Glycerin, Decyl Oleate, Aloe Barbadensis Leaf Juice, Butyrospermum Parkii Butter, Cetearyl Alcohol, Sodium Stearoyl Glutamate, Terminalia Ferdinandiana Seed Oil, Benzyl Alcohol, Alpha-Glucan Oligosaccharide, Glyceryl Caprylate, Maltodextrin, Polymnia Sonchifolia Root Juice, Xanthan Gum, Cyathea Medullaris Leaf Extract, Boswellia Carterii Gum Oil, Centella Asiatica Leaf Extract, Pelargonium Graveolens Flower Oil, Potassium Sorbate, Bakuchiol, Phospholipids, Tocopherol, Dehydroacetic Acid, Calcium Gluconate, Gluconolactone, Helianthus Annuus Seed Oil, Macropiper Excelsum Leaf Extract, Phenoxyethanol, Sodium Benzoate, Glycyrrhiza Glabra Root Extract, Sphingolipids, Mel, Ascorbyl Palmitate, Hydrogenated Palm Glycerides Citrate, Lecithin
When to Order

FAQs

Does it replace my moisturizer? 
Yes it can, this has all the active ingredients and hydrators but in a lighter mist form. If your skin isn't dry it will be just fine all year around, if you find your skin drys out over the drier winter month switch to the Cream or use both as required. 
Can I use it around the eyes?
Absolutely, in fact, we suggest using it around the delicate eye area.
Can I go in the sun after using Corbin Rd's SMART face mist?
Our formula has no sun-sensitizing ingredients, which means it is ok to use during the day. We recommend using SPF after applying our SMART face cream when using it during the day.
Can I use it mornings and evenings?
Corbin Rd's SMART Hydra-Mist can be used as day and night hydration.