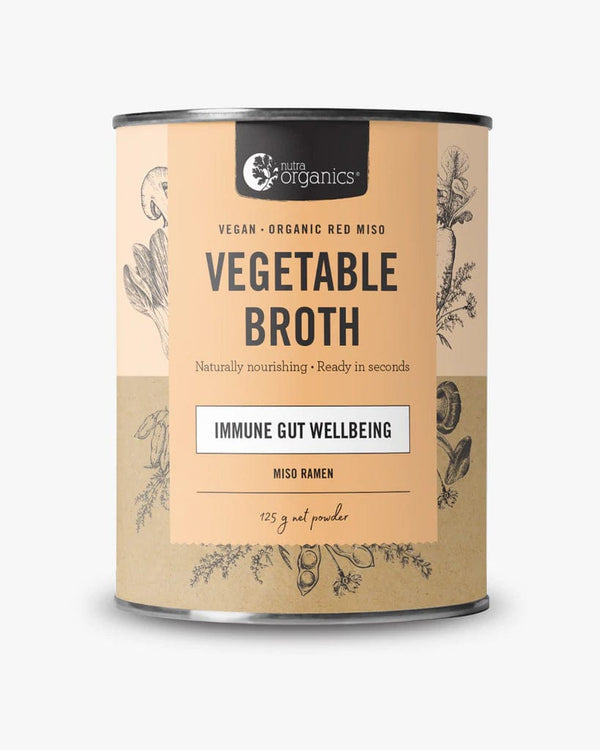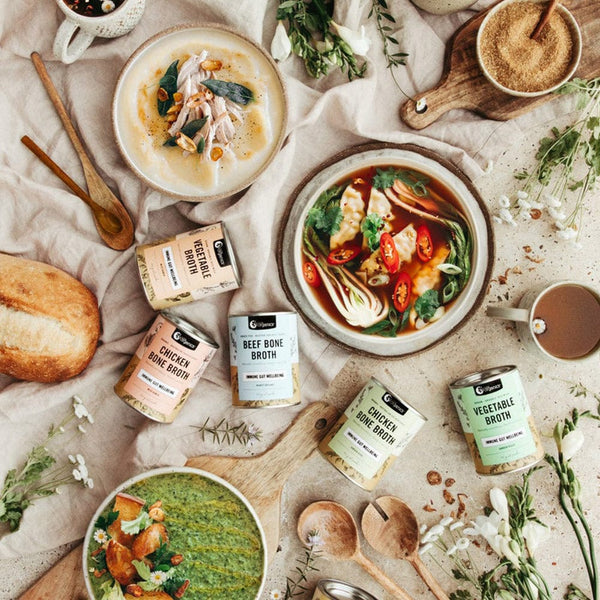 Vegetable Broth Miso Ramen is a naturally nourishing instant ramen vegetable broth with zinc, calcium & B vitamins to support immunity, energy and gut wellbeing.~
Ready in seconds, as tasty and nutritious as homemade and easy to take on the go!
MORE INFO
This vegan Vegetable Broth is a totally vegetable-licious broth that's chock full of goodness. It's your whole veggie garden in a cup, with organic red miso for the traditional Japanese ramen flavour and health benefits. Vegetable Broth Miso Ramen is a vegan alternative to stock that contains 11 fresh veggies and herbs, making it a one-stop shop for nourishment. Each serving of Vegetable Broth Miso Ramen contains the equivalent amount of veggies as if you had eaten them all separately, so you can enjoy all your daily serves in one go!
Nutrients for immune support
Our Vegetable Broth Miso Ramen is rich in essential vitamins and minerals, which support the immune system function and overall wellbeing. Red miso is a traditional Japanese food that is made from fermented soybeans and has been used for centuries to promote gut health and immunity. Zinc contributes to cell protection from free radicals and is an essential mineral for supporting our immune systems. B Vitamins are essential to the body, especially when it comes to metabolism. They can help you to utilise the energy from food and combat tiredness and fatigue. Vitamin B12 is a nutrient that helps reduce tiredness, fatigue, and support immunity.
How is the Vegetable Broth Miso Ramen made? 
This vegetable broth is made from vegetables and herbs, which are simmered in water until tender. The broth is then strained to remove the solids and seasonings are added back in. The vegetable broth can be used as a base for soups or stews, or simply served on its own as a tasty side dish with your meals. It can be your best well-balanced vegan ramen broth!
INGREDIENTS
Red Miso* (51 %) (Soybeans*, Rice*, Salt, Aspergillus oryzae*), MCT Oil*, Deactivated Nutritional Savoury Flakes, Pink Himalayan Salt, Vegetables (6 %) (Garlic, Onion, Pumpkin*, Kale*, Spinach*, Sweet Potato, Carrot*, Broccoli), Tapioca Starch*, Mirepoix (Onion, Carrot, Celery, Salt, Garlic, Pepper), Aquamin Marine Minerals* (Arctic Sea Algae*), Brown Rice Protein*, Turmeric*, Tasmanian Kelp, Parsley, Chives, Black Pepper. *Certified Organic Ingredients
ALLERGEN WARNING
Contains Soy. Manufactured in a facility that also processes products containing tree nuts, milk, eggs, sesame, fish, shellfish and lupin. 
NUTRITIONAL INFORMATION
Serving Size: 6 g in

200 ml water

Servings per pack:

125 g - 20.5

 

Avg. Qty. 

per serve*

Avg. Qty.

per 100 mL

ENERGY
88 kJ
44 kJ
PROTEIN, TOTAL
1.0 g
0.5 g
- GLUTEN
NOT DETECTED
NOT DETECTED
FAT, TOTAL
0.8 g
0.4 g
- SATURATED
0.5 g
0.2 g
CARBOHYDRATE
2.1 g
1.1 g
- SUGARS
0.3 g
0.1 g
SODIUM
358 mg
179 mg
POTASSIUM
11.0 mg
5.6 mg
CALCIUM
81.3 mg (10% RDI)
40.7 mg
ZINC
1.4 mg (12% RDI)
0.7 mg
VITAMIN B2
0.3 mg (17% RDI)
0.1 mg
VITAMIN B3
1.4 mg (14% RDI)
0.7 mg
VITAMIN B5
0.5 mg (10% RDI)
0.3 mg
VITAMIN B12
0.5 mcg (27% RDI)
0.3 mcg
*When prepared as per package instructions.
Percentage Recommended Dietary Intake.
WAYS TO USE IT 
Simply add 2 teaspoons (6 g) to 200 mL of boiling water.
Use as a base for soups, stews, sauces and gravies for nutrition and taste.
FAQS
Where is the Miso Ramen flavour coming from?
Our Miso Ramen has no added flavours! The wonderful rich umami Japanese ramen taste comes from our Certified Organic Red Miso.
What is Umami?
Umami is one of our five basic tastes: sweet, sour, bitter, salty and umami. It is  translated as "pleasant savoury taste" and it was created in 1908 by a Japanese Chemist. It describes the "brothy and meaty" taste with a long-lasting, mouth watering sensation over the tongue. It only became officially recognised as a fifth taste when scientists were able to locate the taste-bud receptors for umami validating its existence. The umami taste can be perceived through taste receptors that typically respond to special compounds present in fermented foods like our red miso and other commonly consumed foods such as meat broths, cheeses and mushrooms.
Why is there MCT Oil Powder?
We wanted to offer a complete "Multidimensional Ramen Broth Experience" that would deliver the unique umami taste together with the mouthfeel sensation associated with a rich homemade broth. That is why we added Medium Chain Triglycerides (MCT) Oil powder to our formulas. MCT Oil Powder contains fats extracted from coconut oil, that have a reputation for being beneficial and popular amongst keto followers. Our Ramen has "good fatty acids" that creates a "creamy" unique mouthfeel sensation. 
What is Mirepoix?
Mirepoix is a cooking technique used in French cuisine to give a specific flavour to a dish. It is made on a base of diced vegetables cooked for a long time on low heat. We have found the perfect mirepoix supplier that offers a combination of onion, carrot, celery and garlic that have been gently dried and transformed into a powder. Our mirepoix provides a rich flavour to our broth. 
How are deactivated nutritional savoury flakes made?
They are made from a single-celled organism fungi called Saccharomyces cerevisiae grown on molasses. They are harvested, washed and dried with heat to 'deactivate' them and then rolled to form flakes.
Are deactivated nutritional savoury flakes fortified with vitamins?
Nutritional Yeast Flakes are fortified with vitamins in the initial stages of growth. As the yeast grows they organically bind to these vitamins and proliferate them. The yeast itself also digests these vitamins to a degree and proliferates its own nutrient content creating a naturally vitamin rich food that can easily be incorporated into all savoury meals. 
What does "deactivated nutritional savoury flakes mean?
Deactivated is a term used to describe the quick heating process that stops nutritional yeast from being able to proliferate any further. Just like good and bad bacteria, there are good and bad yeasts that exist within our digestive tract. Unlike unhealthy yeasts such as Candida spp., nutritional yeast is made from a healthful yeast Saccharomyces cerevisiae which helps to stop unhealthy yeasts from colonising in the digestive tract by a process of displacement. Therefore even though nutritional yeast is deactivated and unable to proliferate in the body, it is still having the favourable effects of a beneficial yeast in the digestive tract.
What is so special about red miso?
We use Certified Organic Red Miso as a base for all of our veggie broths, as it is naturally rich in vitamins and minerals delivering wholesome benefits. It has been dried using a low temperature drying method (freeze drying technique) to retain most of its nutritional benefits, taste and colour. During its processing soya beans and rice were fermented with the probiotic fungus Aspergillus oryzae, to enhance the umami flavour and health goodness. 
Is it gluten free?
Yes! The recipes do not contain any gluten containing ingredients and we make sure that they are manufactured and packed in a gluten free environment. 
Is it pregnancy & breastfeeding friendly?
Yes! In saying this, we do advise to seek the advice of your primary health care professional if taking any of our products for the first time if you are pregnant or breastfeeding. We only say so as we believe that every pregnancy is different, taking a toll differently on each individual body in vitamin, mineral and energy levels. We invite you to research the product to ensure that you are not sensitive to any particular ingredients. 
Is it vegan or vegetarian?
YES, it does not contain any animal derived ingredients.  
Is it soy free?
NO. We have used Organic Red Miso as a base for all of our Vegetable Broths. Red Miso is made from soybeans, so our products do contain soy.