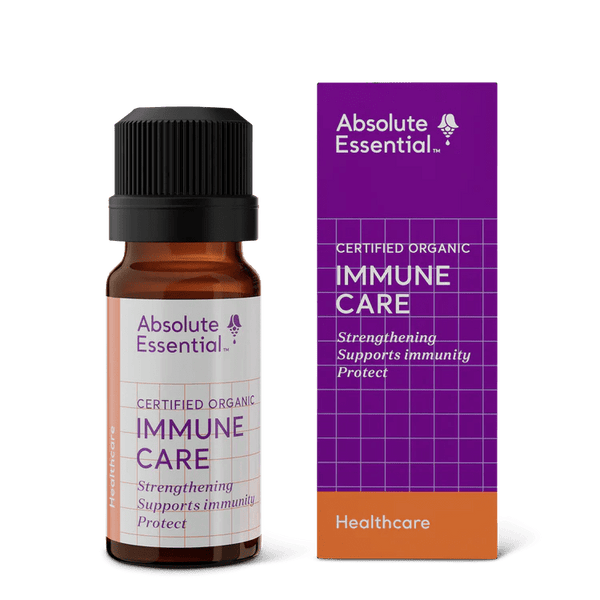 Product Details

A potent and protective blend to support healthy immune function. Enhances recovery from ills and chills.
Ways to use

Ill health - coughs, colds, shingles, low energy
Add 10 drops in ¼ tsp Untouched Body Cream and rub into chest.
Add 3-5 drops to hot water, breathe in steam deeply.
Rub 5 drops onto soles of feet prior to sleep. Repeat every night for a minimum of 10 days.
Add 10 drops to a diffuser. Replenish as required.

Immune protection
Add 10 drops to a diffuser. Replenish as required.
Add 10 drops to 1/2 cup (any) milk and add to a hot bath once a week. Therapuetic baths should not exceed 15 minutes.
Safety Considerations

This oil blend is safe if applied as directed. Safe to use with other medication when necessary. If accidentially ingested do not induce vomiting, follow with olive oil or milk and seek advice from a health specialist. Avoid contact with eyes - flush with water. NOT designed for use with infants or during pregnancy. Keep out of reach of children.

Allergies: This blend does not contain nut oils, however, the place of manufacture handles nut oils.

Please note: Therapeutic plant oils are used to support natural body processes for optimum health and wellbeing. The information here is NOT meant as a recommendation to cure any medical condition or disease.


Ingredients
Key ingredients

Manuka
Leptospermum scoparium
Eases congestion and coughs. Aids natural breathing and supports immune functions.

Lavender Spike
Lavandula latifolia
Offers gentle immune support.

Thyme Thymol
Thymus vulgarus CT thymol
Helps to stabilise immune functions.

Tea Tree
Melaleuca alternifolia
An effective antiseptic. Stimulates immune functions.

Ingredients by volume
Eucalyptus Australiana*, Lavender Spike*, Tea Tree*, Cypress*, Pine Scotch*, Manuka (wild), Thyme Thymol* (*Certified organic)