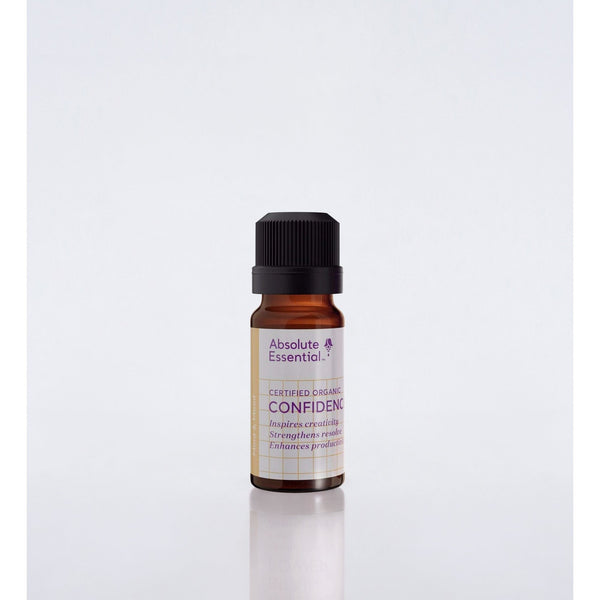 Product Details

Here is an essential oil for people who feel ready to realise their hidden potential or simply to help you rise to daily challenges. The natural peaceful aroma of this confidence essential oil blend helps you gain more confidence and courage to do the stuff you love by supporting your healthy mental activity. The natural calm response from these essential oils for courage and confidence has a light and inspirational overtone which helps to fight negative thoughts and supports a clear positive mind.
The confidence essential oil blend is for those who love nature but can't get out for a walk in the forest. The natural peaceful aroma of this essential oil will help you focus and inspire you to contemplate on your ideas.
Ways to use

A Stress Less, Confidence Booster
Relax, and hush the negative thoughts that stand in your way. Use this blend to support mental calm that allows inspiration and clears pathways. Allow anxieties and tensions to fall out of focus and re-channel energy to enjoy a whole new dynamic.
Clarify Goals
When you need to strategise and have plans to make, use Clarity & Confidence to create an environment conducive to calm, clear thinking. A quiet mind has more energy for awareness and concentration.
Cleansing & Invigorating Mind Tonic
These oils have a strong fresh scent designed to clear the mental cobwebs and uplift. Help release stuck energy that can dampen the spirit, and support a natural state of efficient focus.
Instructions

Diffusion: 5-10 drops, allow 10 minutes, replenish as required.

Perfume/Inhalation: A few drops to collar or a tissue.

Bath: 10 drops in milk to running water.

Shower: after washing add 5 drops to a wet face cloth and rub all over your body. Towel dry if required.

Pulse Points: apply direct to back of neck and wrists.
Safety Considerations

This blend is professionally designed and is very safe if applied as directed. Use on pulse points is not recommended for sensitive skin – discontinue if irritation occurs. Not for internal use: if ingested drink milk, consult a health specialist. Avoid contact with eyes: flush with water. Keep out of reach of children.
Please note: Therapeutic plant oils are used to support natural body process for optimum health and wellbeing. The information here is NOT meant as recommendation for cure of any medical condition or disease.
Ingredients

Lemon (organic)
Bergamot (organic)
Cedarwood Atlas (organic)
Eucalyptus Australiana (organic)
Rosemary Cineol (organic)
Juniper Berry Oil
Fir Balsam
Pine Scotch (organic)
Lime Oil