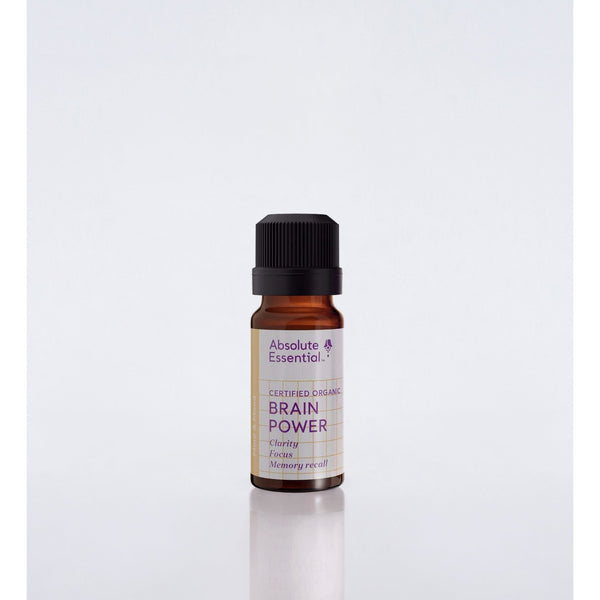 Product Details

Brain Power is one of the best essential oils for focus and memory. It is blended to create an atmosphere conducive for studying.

This diffusion is energising and revitalising, making it ideal for creating a space suitable for focus and disciplined work.

By wearing a certain fragrance when you work and again when you take your exam or make a presentation, you can create an association between the two events in your mind. This will help you recall what you learned more effectively.

These essential oil diffuser blends for studying will have you relaxed and focused, improving concentration and memory recall.
Ways to use

Concentration
Use Brain Power in a diffuser to create a workspace that is designed to help you focus on the task at hand.
Mental Fatigue
Avoid unhealthy stimulants when you are facing periods of prolonged study, our blend assists natural mental performance to encourage healthy stamina.
Memory
Fragrance is integral to memory so, with oils used to optimise attention and focus, this blend offers a potent combination to assist the natural recall process. For best results use only for study then repeat for exams or presentations.
Instructions

Diffusion: 10 drops, allow 20 minutes, repeat every 2-3 hours.

Pulse Points: smudge on wrists and back of neck (not for sensitive skin).

Inhalation/Perfume: a few drops to tissue or clothes, replenish every 2-3 hours.
Safety Considerations

This blend is safe if applied as directed. Not for internal use: if ingested do not induce vomiting, drink milk, consult a health specialist. Avoid contact with eyes: flush with water. Keep out of reach of children.
Please note: Therapeutic plant oils are used to support natural body process for optimum health and wellbeing. The information here is NOT meant as recommendation for cure of any medical condition or disease.
Ingredients

Lemon (organic)
Bergamot (organic)
Rosemary Cineol (organic)
Spearmint Oil
Basil Oil
Geranium (organic)
Lemonmint Oil
Cardamon (organic)