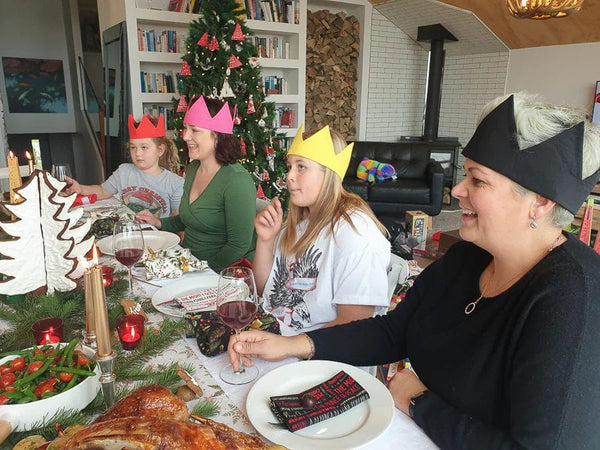 Re-Usable Christmas Crackers and Party Hats In Sets of 8
Another brand we love for obvious reasons!
Christmas Bon Bons: The Eco-Friendly Festive Choice + FREE SNAPS 
As Christmas approaches, the excitement of festive celebrations builds up, and what's more iconic than popping Christmas bon bons during the big dinner? Christmas bon bons have long been an integral part of our yuletide festivities. But, have you ever wished for Christmas bon bons with good gifts inside, rather than the usual throwaway trinkets? Waste Free Celebrations has you covered.
The Authentic Christmas Bon Bons 
A luxury feel doesn't have to come at the cost of the environment. Waste Free Celebrations have created premium Christmas bon bons  that exude deluxe vibes while ensuring minimal wastage. Think of them as the deluxe Christmas bon bons that come with responsibility.
Going Green with Reusable Bon Bons
Seeking eco-friendly bon bons that still snap like their disposable counterparts?  Designed to provide that satisfying snap but also to slide back together for years to come. Each bon bon is machine-washable, allowing for a waste-free and joy-filled Christmas year after year.
Not only Bon Bons But Re-useable Party Hats
Our everlasting crowns mean no more single-use crowns that tear as Dad tries to fit them over his head.
Resizable velcro closure means these will actually fit every head- no more crowns falling down over the eyes of the little ones. 
Wadded, double-lined, 100% cotton crowns in gloriously bright colors will make your kids and Christmas party a celebration to remember.
These are great alternatives to the single-use party hats you can buy, velcro closures mean it fits any head.
Invest now for years of use.
CARE
These can be washed in the washing machine on a cold setting
Long soaking will fade the colours, as will detergents containing bleach.
Do not tumble dry. Instead, dry these flat out of direct sunlight. 
Store somewhere dry between uses. 
If they get a bit crinkled in storage use a warm iron on the reverse (avoid the velcro) to get these looking good again.