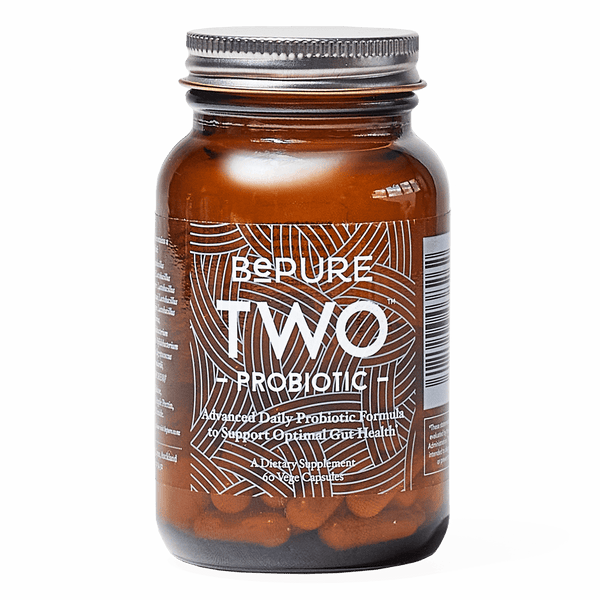 BePure Two Probiotic is an advanced daily probiotic, specially formulated by Ben Warren to provide your body with a powerful dose of beneficial bacteria to support optimal gut health.

BePure Two Probiotic contains 18 strains of beneficial bacteria and a minimum of 30 billion viable bacteria per serving. These are all packed into a slow release capsule, scientifically designed to take two hours to break down, ensuring the viable bacteria in each serving reaches the most beneficial stage of the intestinal tract.

This makes BePure Two Probiotic one of the most complete probiotic formulations available for supporting your gut health. Contains prebiotics, including inulin and apple pectin and the gut nourishing nutrient L-glutamine.


Support for:

Overall gut health and healthy digestion

Immunity

Mood stability

Nutrient absorption

During and after antibiotic use
Amount per serving: Total 30 billion bacteria per 2 capsules

Lactobacillus acidophilus - LA-G80
L. casei-LC-G11
L. salivarius-LS-G60
Lactobacillus Plantarum-LB-G18
Lactobacillus delbrueckii spp, bulgaricus-LB-G40
Lactobacillus Rhamnosus-Lr-G14
L.paracasei-LPc-G110
L. Helveticus-LH-G51
L. gasseri-LG-G12
Bacillus Coagulans- MTCC 5856
Bifidobacterium Infantis-B1-G101
Bifidobacterium Lactis_BL-G101
Bifidobacterium Breve-BB-G95
B. bifidum-BB-G90
Bifidobacterium Longum-BL-G301
L.Reuteri-LR-G100
S.Thermophilus-ST-G30
L.Fermentum-LF-G89
Saccharamyces Boulardii

Additional ingredients:
Cellulose, L-Glutamine, Inulin (FOS), Apple Pectin, Vegetable Steartate
The best way to think of BePure Two Probiotic is like a whole food that's been concentrated into a powder form, packed into an easy-to-swallow capsule and designed to be taken daily, alongside your wholesome, healthy meals to fill in the nutritional gaps for optimal health.


Recommended daily dose:
Adults (ages 12+): 2 x capsules daily on an empty stomach. Recommended 30 minutes prior to your first meal of the day and two hours after your final meal.

Children (6-11): 1 capsule daily. BePure Two Probiotic is a great way for younger children to use probiotics. This can be taken as a capsule if your child is capable of safely swallowing these, alternatively capsules can be opened and placed into a beverage or onto food.

Notes: To ensure maximum absorption, we do recommend that you take BePure Gut Renew Probiotic on an empty stomach, away from drinks such as coffee, tea or alcohol.

Precaution:
It may contain small amounts of lactose. Avoid if you have a lactose allergy.

Always read the label and take as directed. Vitamins are supplementary to a balanced diet. BePure Health Ltd, Auckland