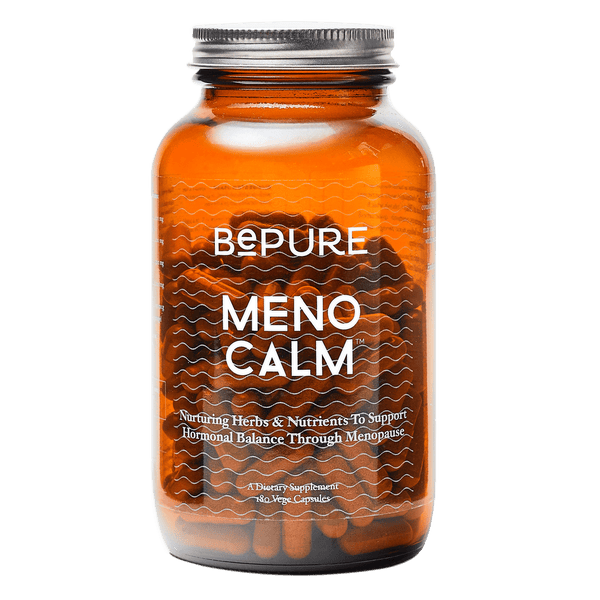 BePure MenoCalm is a nurturing blend of herbs and nutrients to support hormonal balance through menopause. For many women, menopause is not as harmonious as it could be.
BePure MenoCalm is formulated with nutrients and herbs such as Sage Leaf and Black Cohosh as comforting support for the unwanted experiences commonly associated with menopause, such as temperature imbalance, mood swings, and disrupted sleep.
Embrace menopause as a rite of passage with BePure MenoCalm.

Support for:

Women's transition through menopause

Energy

Emotional health and mental focus

Mood

Sleep
Amount per serving:
Ashwagandha Root (Withania Somnifera) 500mg
Black Cohosh Root 4:1 Extract (Cimicifuga Racemosa) 100mg
Sage Leaf 4:1 Extract (Salvia Officinalis) 300mg
Choline (from Choline DL-Bitartrate) 200mg
Chromium (Picolinate) 150mcg

Additional ingredients:
Vegetable Capsule: (Hydroxypropylmethylcellulose),Microcrystalline Cellulose, Silicon Dioxide, Magnesium Stearate
Directions:
Take 3 capsules a day with or without food, or as directed by your healthcare practitioner.
Precaution:
Do not take with warfarin or other blood pressure medication.
If you are undergoing cancer treatment or have recently been diagnosed.
Be cautious when taking antibiotics and immunosuppressants. Consult with your healthcare professional if on any medication.
If you have a known nightshade allergy please do not take this product as it contains Ashwagandha - a member of the nightshade family.
Always read the label and take as directed. Vitamins are supplementary to a balanced diet. BePure Health Ltd, Auckland.