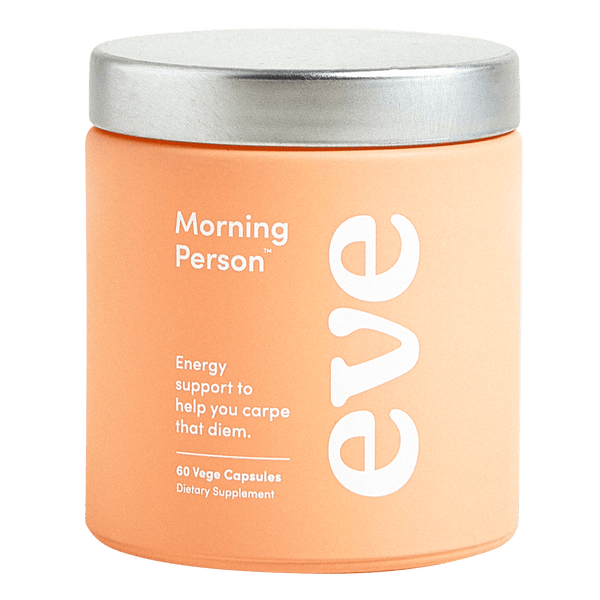 Eve Morning Person combines high strength, bioavailable B vitamins and adaptogens to support energy, brain function, and a healthy stress response. Everything you need to turn into a morning person.
A combination of fast-acting B vitamins and ginseng provides immediate energy support, while adaptogenic rhodiola rosea works over time to bolster your inner engines for healthy vitality long term.

Morning Person provides support for:

A caffeine free morning lift - a remedy to end the cycle of fatigue

Energy production

Immediate energy boost

Healthy stamina

Healthy brain function, mental focus and capacity
Amount per serving (2 capsules):
Rhodiola rosea root extract (Min. 2% Salidroside, Min. 3% Rosavin) 400mg
Panax ginseng root extract (40% Ginsenosides) 200mg
Vitamin B6 as Pyridoxal 5'-phosphate 20mg
Vitamin B2 as Riboflavin 12mg
Vitamin B9 as Calcium Folinate 300mcg
Vitamin B12 as Methylcobalamin 50 mcg
Additional ingredients: Hydroxypropyl methylcellulose (capsule), Magnesium Stearate

Directions:
Adults (ages 12+): 2 capsules daily in the morning with food, or as directed by your health practitioner.
Precaution:
Avoid if pregnant or breastfeeding. If on medication, we recommend checking contraindications with your health professional. Always read the label and take as directed. Vitamins are supplementary to a balanced diet. Eve Wellness Ltd, Auckland.