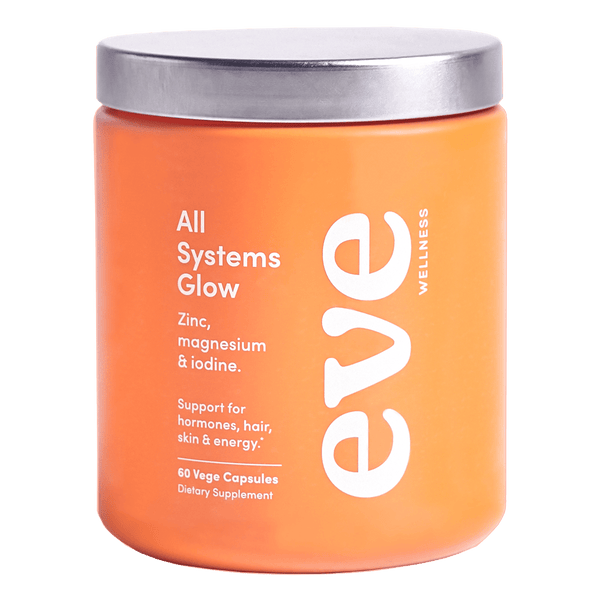 All Systems Glow: Your 3-in-1 wellness hack with zinc, magnesium and iodine to support overall wellbeing and hormonal balance.

Your 3-in-1 wellness hack

Zinc, magnesium and iodine are essential nutrients that we need to look and feel our best. This powerful trio is essential to a huge number of processes within our bodies, with a particular importance for our hormones, energy, mood, and not to mention our outer glow.

If you're wanting to work on your overall wellbeing and support hormonal balance, then look no further than Eve All Systems Glow for your daily mineral pick me up. 

All Systems Glow provides support for:

Hormonal balance

Energy and vitality

Mental wellbeing and stress 

Hair, skin and nails
Each serving (2 capsules) contains
Zinc as zinc gluconate 15mg
Magnesium as magnesium bisglycinate 300mg
Directions:
Take 2 capsules daily with food at breakfast or lunch or as directed by your health
practitioner
Precaution:
Not suitable for those under the age of 12 unless recommended by a health professional.

Consult with your healthcare practitioner if you are on thyroid medications or have a known
thyroid autoimmunity.
Iodine as potassium iodine 150 mcg
Additional ingredients:
Hypromellose (capsule), Magnesium Stearate, Microcrystalline Cellulose, Silicon Dioxide.